We're Evergreen Escapes!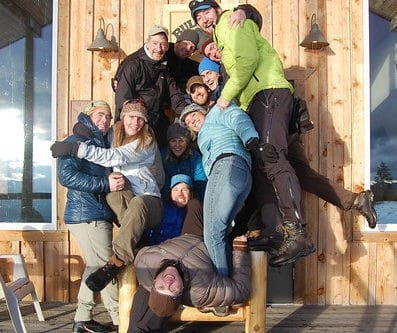 We're professional nature guides with a deep love for our home – the Pacific Northwest – and for sharing it with travelers from around the planet! We'd be thrilled to show you around.
Our little team is family-owned and significantly experienced. Our guides were born for this – we've been working outside for as long as we've been working! We didn't just quit our Amazon jobs so we could play outside; we're not Facebook execs with money to burn (no offense–tech giants)! We have degrees in fun, nerdy things like Environmental Education, Forest Science, Sustainability, Environmental Policy, Wine & Spirits (yes–a master's degree in wine & spirits!), and so on. Heck, our guides even write the guide books for the region! We live for this.
Our small-group trips are all-inclusive, comfortably paced, and we love spending time exploring our beautiful places on foot. We've been pioneering trips like these for the last 15 years – we have our imitators now. We're flattered that you found your way to us; please give us a call or send our team a note if we can tell you more about our authentic Northwestern experiences or assist you in planning or booking a trip!
Gratitude,
Evergreen Escapes Team
We know that days spent traveling and exploring are invaluable; traveling effortlessly and artfully is priceless – we can help!
Our local tour guides are the best you'll find in the Pacific Northwest. Period. Read more about our Dream Team here. And we've been TripAdvisor "Certified Excellent" every year since 2010 and are TripAdvisor "Hall of Fame." Read more about our travel values.